Restroom Cubicles are an indispensable part of commercial restroom spaces. Even though not as popular, they are one of the long-term investments that need utmost care before making a purchase. The bathroom cubicles are exclusive for each type of bathroom design including Classic style, Vibrant hues, Designer makes, or Kids collections. The collections can be available in various materials of aluminum, stainless steel hardware for a unique combination of durability and innovation. Bathroom partitions should be designed such that they provide comfort as well as a hygienic space. The partitions come with a variety of hardware fittings including standard, adjustable foot, top rail arrangements, and shoebox designs.
Modular toilet cubicles are one of the latest choices in the recent commercial constructions with equal or more emphasis given to the bathroom designs as much as the other interiors of the commercial space. Modular restrooms offer different benefits such as a luxurious look and feel, easy installations, low cost, low maintenance, and durability along with a modern touch that keeps everything clean and tidy. In recent times one might also find options such as antimicrobial panels to prevent mold and other microbial growth due to the heavy footfall and humid conditions. After the COVID-19 outbreak, more customers are thinking of such options to maintain a hygienic environment in and around the toilet partitions by using easy maintenance bathroom panels in commercial spaces.
A wide range of commercial bathroom panels are available in exclusive designs, highest quality, and also come in high safety standards that are easy maintenance. Below are some of the attributes that one has to look for before making a purchase of restroom cubicles and shower partitions for their commercial spaces:
Are the partitions available in the latest designs and properties?
Are they manufactured following ISO 2046?
Are the fittings durable and Built with stainless steel and aluminium hardware fittings?
Are the laminates formulated using superior and high-pressure quality?
What are the various sizes, shapes, colours, and designs available?
Are they designed to fit any functionality such as schools, offices, etc?
Are they available to be customized for physically abled needs?
Are the partitions durable, hygienic, and easy to maintain?
Are they available in mold-resistant and antimicrobial varieties?
For all these attributes CRM India is one of the best solutions to provide demountable toilet partition walls with premium quality and also at affordable prices.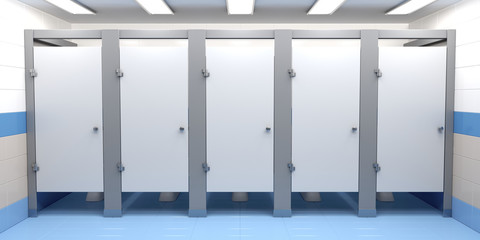 Modular toilet cubicles installations:
Once purchased, fitting the modular toilet cubicles and partitions need special measures to be taken and they need different expertise for the fittings unlike the regular office partitions or home partitions. Most commercial bathroom partition walls need to leave gaps without touching the floor for better air circulation, easy cleaning, and maintenance purposes.
Commercial bathroom cubicles also have to provide lock systems to show vacancy or occupancy of the stall. The space in the washroom cubicles also should be maintained according to standards for proper air circulation to eliminate the foul smell, and also should be compliant for wheelchair accessibility.
Restroom cubicles dealers in Hyderabad
CRM offers the best quality toilet partitions of the top brand in the production and installation of your restrooms. We are an exclusive channel partner to VEDIC which is a company that uses only high-quality materials and modern equipment that allows partitions of any complexity to be installed with perfect precision and aesthetic interiors. The VEDIC partition systems are durable and excellent in quality. They are artfully designed and meet all environmental standards. VEDIC's research and design team passionately work to innovate and upgrade its products to customize for each of its clients.
When you are ordering your restroom partitions you can trust CRM Enterprises to offer you the best choices in the materials that are made to last for years. We provide quality and precision and understand that your washroom cubicles and partition measurements need to be accurate, so we take utmost care to get the perfect fit for your projects and not just go for a one-size-fits-all solution.
We have been in the business of providing durable and sustainable quality commercial bathroom partitions walls for all budgets and designs for more than two decades. We know the pulse of our client's and we take a lot of effort to stay up to date with current demands and service the best in the market. Please visit us at crmindia.co.in for more information or call us on +91 40-66360069 to request a quote.